Our People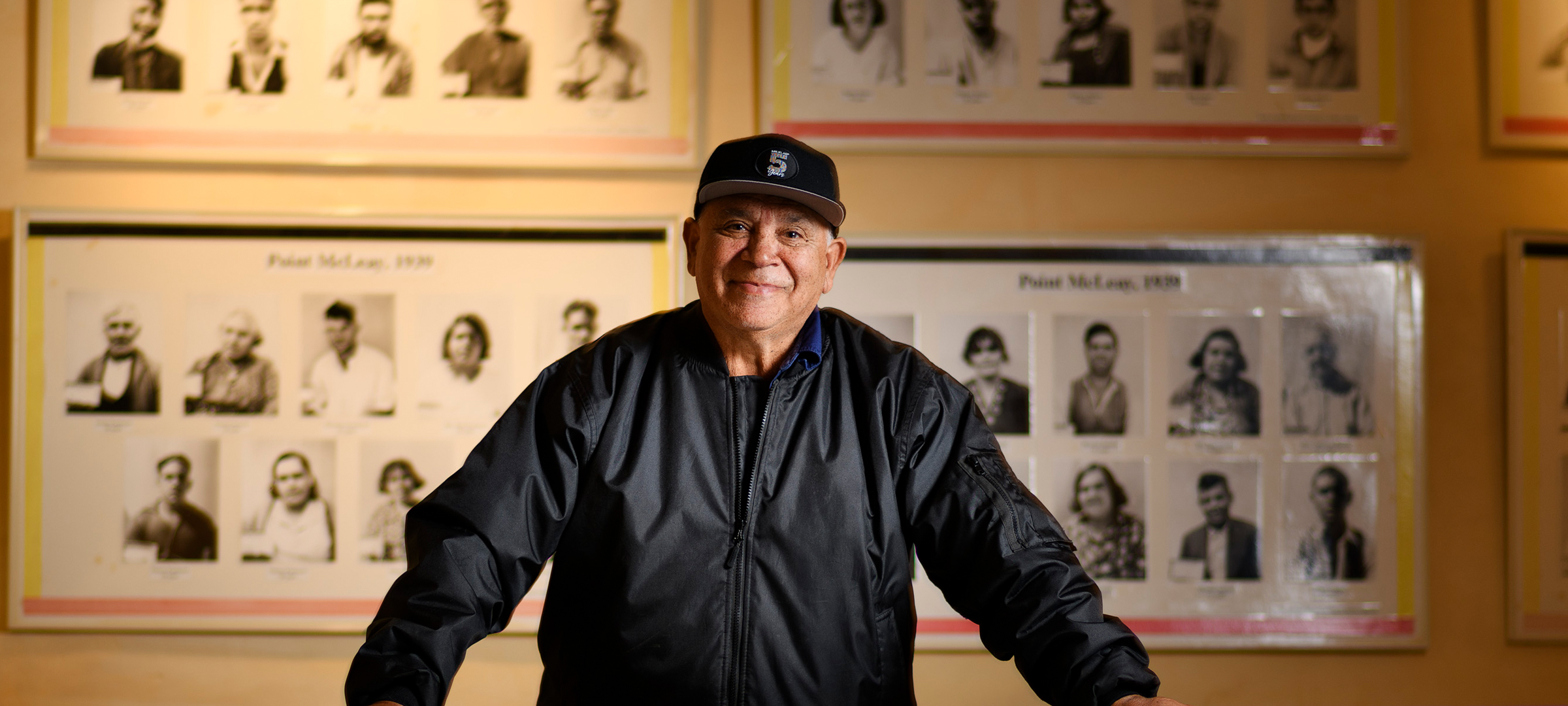 Tanganekald people are part of the Ngarrindjeri Nation and we have a long history living at and near the Coorong and Lakes region. A number of our Tanganekald people have contributed their wisdom, knowledge and time to this project. All of them welcome efforts to revive and strengthen Tanganekald language and traditions. We believe that a first step in achieving the revival of our language is to gather important stories, songs and words and make them available to all people with an interest in and enthusiasm for this great project. An introduction to some of the participants is provided in the video below. In the image above, Tanganekald Elder Clyde Rigney is pictured at the Raukkan Gallery. He stands in front of a historical display of Raukkan residents from the 1930s.
Milerum (Clarence Long, 1869 -1941) lived astride the 19th and 20th centuries - a time of great change for Tanganekald and other SA Aboriginal people. Milerum also lived with one foot in the traditional Tanganekald world and one in the settler-colonial world. He was very knowledgeable about both worlds, from having grown up in the bush and spending his working life in the new economy. But a feeling of unease developed in Milerum in his later years. Seeing around him the decline of traditional Tanganekald language and traditions, and the growing disruptions of settler-colonial practices on the environment, he sought to create a record for the use for future generations of Tanganekald people. In order to pursue this end, Milerum developed a working relationship with Norman Tindale of the South Australian Museum. It is fair to say that the vision of both men was coincided in a Tanganekald archive. Many of the resources in this website draw upon this archival legacy. Contemporary Tanganekald people, including direct descendants of Milerum, are in awe of Milerum's foresight. According to Tanganekald Elder Clyde Rigney:
 
'Milerum saw how important it was to invest his time not for himself, but for people he would never meet.'
 
Walk with us on this path laid down by Milerum.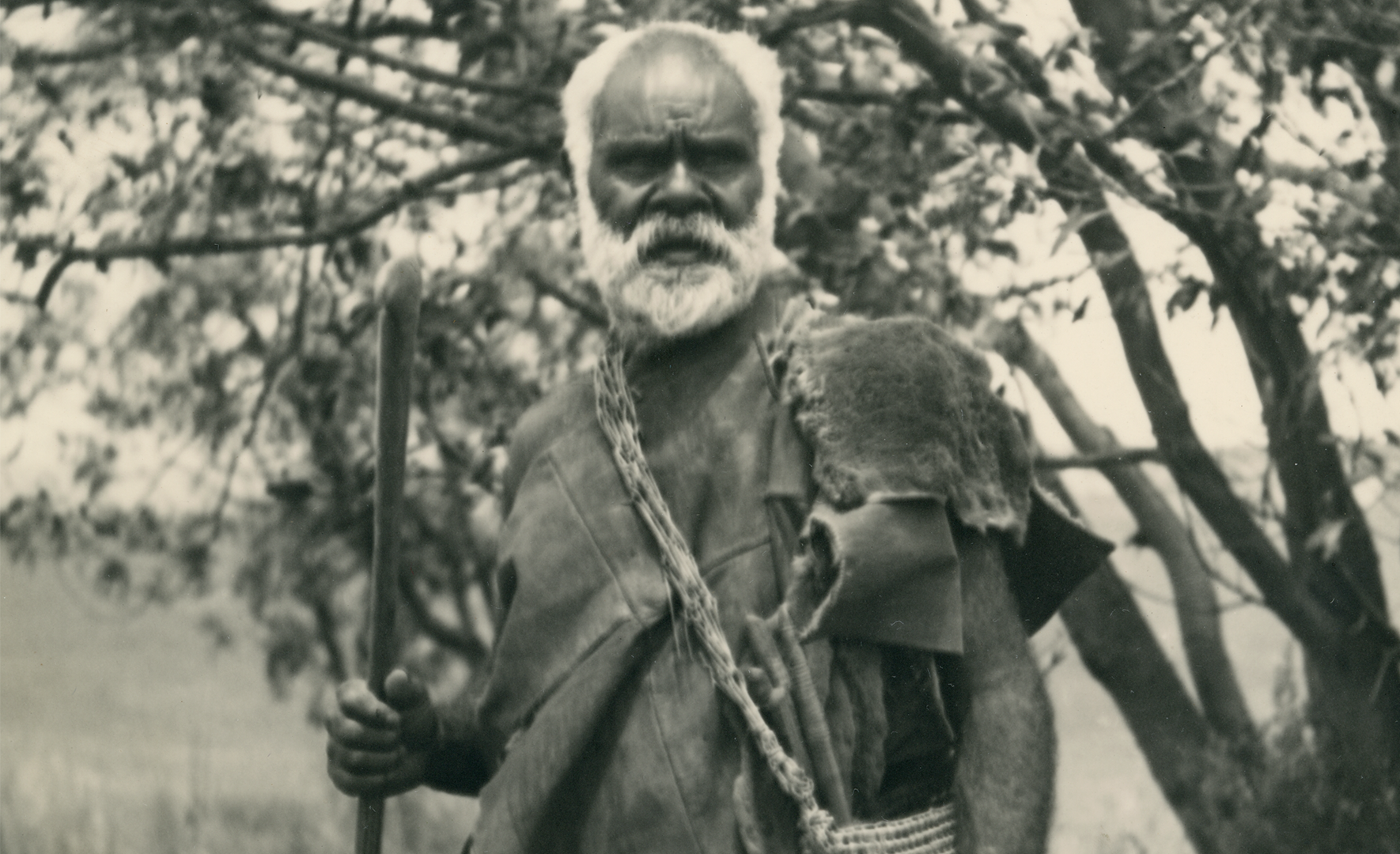 It is often said by Tanganekald people that everyone in our community is related. Everyone is part of the family. This means that for us kinship and relatedness is central to who we are. Kinship informs the ways that we interact with other people because depending on the relationship there are certain rules and responsibilities to observe and follow. In other words, the moiety system orders the social world and allows networks of people to interact when they meet, such as for trade, for sharing in local resources and in marriage (opposite moieties can marry). The named Tanganekald moieties in Milerum's day were Kamadj and Krokidj.
 
Membership in a moiety was determined by birth and inherited from the father. For example, Milerum inherited his father's moiety, the Kamadj moiety, and also part of his father's karrawi hunting territory near Salt Creek. His ngaitji totem, also determined at birth, was korowali or white-faced heron.
 
According to Milerum, Tanganekald people and their neighbours would go to a great corroborree called mutyari or the great feed. At this event many people would come together to eat, trade, perform, settle disputes and get married. As many as six marriages might be arranged at one meeting. Woodchester waterfall and Goolwa were specially important places for such ceremonies. The trade track went by the Murray mouth and across Hindmarsh Island. 
 
 All the various details of how individuals were related in an oral culture were kept in people's heads. When two individuals met for the first time they would work through perhaps myriad possibilities until they reached agreement. Norman Tindale employed the genealogical method which relied on pen and paper and one-on-one interview to establish the descent of individuals. An example of this is pictured below: Tindale's handwritten genealogy of Milerum (details blurred for privacy reasons). Norman Tindale was also interested in classificatory relationships and recorded terms for non-blood relations in his vocabularies of Tanganekald.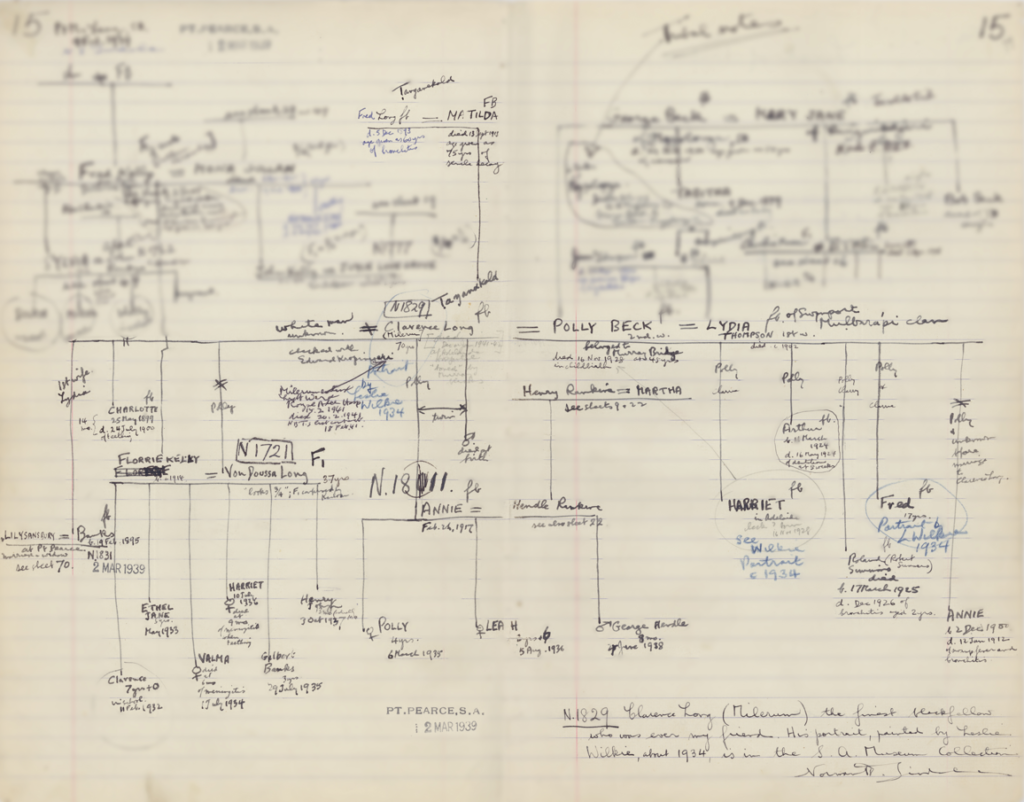 ---